UHY Capability Statement 2015
Thursday, March 12, 2015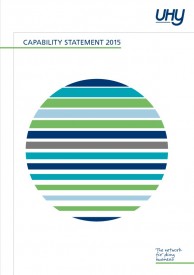 Our 2015 capability statement demonstrates our worldwide presence and capabilities. Our 2015 edition includes eight case studies, with a range of international clients across a variety of market sectors: automotive components, IT – ERP software, life sciences, manufacturing, medical, mining and renewable energy.
Download:
UHY Capability Statement 2015
---
News
(Oct 23rd, 2017) International accountancy network UHY releases its 2017 "Global real estate...
(June 14, 2017) Generally transactions becomes "statute barred" in Canada after three years and...
(April 10, 2017) Canadian capital investment lags the world average, putting future Canadian...
FAQ
What is the penalty for filing your personal income tax return late?
What is tax-loss selling?