UHY Global Transfer Pricing Guide 2015
Friday, January 30, 2015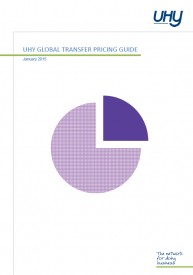 (January 30, 2015) Global accountancy network UHY releases its 2015 "Global Transfer Pricing Guide" to assist tax and finance professionals responsible for cross-border tax planning and compliance with their enquiries. Given the complexity of transfer pricing issues, the guide provides in the first instance a country-by-country summary of major transfer pricing requirements, including pricing methods, documentation and penalties covering 80 countries.

UHY member firm transfer pricing specialists work together to deliver global solutions for clients that protect against the threats posed by transfer pricing legislation. Advising on prices for intra-group transactions, using proven economic databases to recommend prices which maximise legitimate tax savings whilst minimising the risk of successful challenges by national tax authorities.
Transfer pricing has taken on greater significance, not just in terms of complying with the rules in each country, but also as a planning tool in minimizing a multinational group's global tax burden.

"This updated guide reflects the commitment of UHY International member firms to outstanding cross-border tax advice and offers the possibility to connect with experts in the subject matter in each country, identified in the guide," concluded Clive Gawthorpe, chair of the UHY Tax special interest group and tax partner at UHY Hacker Young, Manchester, UK.

The guide provides an overview of the governing statutes, how key concepts such as 'arm's length pricing' are applied and the documentation required for the tax authorities. For more information regarding transfer pricing issues on specific countries and about UHY's member firms' tax expertise, please consult the contacts listed by country in the guide.
Download:
UHY Global Transfer Pricing Guide January 2015
---
News
(Oct 23rd, 2017) International accountancy network UHY releases its 2017 "Global real estate...
(June 14, 2017) Generally transactions becomes "statute barred" in Canada after three years and...
(April 10, 2017) Canadian capital investment lags the world average, putting future Canadian...
FAQ
Tax Cuts and Jobs Act: IRC Section 965 "Repatriation Tax" and the new GILTI applies to Americans who reside in Canada and own Canadian Corporations
Is it better to lease or buy a new vehicle?
What are the Affordable Care Act (Obamacare) requirements for Ex-Pats?